Here are some customer reviews of the toys I make:
Soooo happy with these lovely peg dolls! All communication with Amanda was great, she drew a sketch to check over before making them and we're just so pleased with them! Would highly recommend :)
Beautiful custom-made family set unique to us - lovely attention to detail. Thanks!
Outstanding customer service and beautiful craftsmanship. I highly recommend.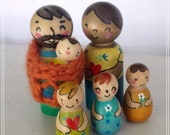 We ordered a family of peg dolls with a custom puppy peg doll for our daughter. It was a pleasure working with Amanda. She was quick to respond to all of my requests. The dolls are beautifully made with baby safe materials. Super fast shipping too!
Laura V  on Sep 12, 2017
These lovely dolls were custom made to capture the essence of my two children. The attention to detail and care put into these little characters is remarkable!
My daughter loves her new custom hand-made kitty doll. It is beautifully crafted and the design is adorable. Tiny Kind Toys gave great feedback, sending me photo updates of the doll as it was being made. Thank you!